Motor

4.0HP (AC)

Speed

1-20 kph

Incline

18 levels (automated control)

Display

10.1" touchscreen console

Program

7 training modes

Measures

Speed, Time, Distance, Calories, Pulse

Heart Rate Monitor

Contact grip

Connectivity

Internet-enabled (WiFi)

Compatible Fitness Apps

Netflix, YouTube, Prime Video, Spotify, Facebook, Twitter, Chrome & Kinomap

USB Charging Port

Yes

Audio

Yes

Fan

Yes

Device Holder

Yes

Water Bottle Holder

Yes

Deck Cushioning

Sublite Cushioning

Foldable Design

No

Transport Wheels

Yes

Floor Level Adjustment

Yes

Installation

Included

Dimensions

190.3 (L) x 83.2 (W) x 160 (H) cm

Running Area

152 (L) x 52 (W) cm

Product Weight

119kg

Max User Weight

150kg

Warranty for Home

Showroom or refurbished set: structural frame (as per original coverage), motors (6 months), running deck (6 months), electronics, belt, parts & labour (6 months). Wear & tear exclusion.
* DO NOTE THAT THIS IS A SHOWROOM SET AND IN MINT WORKING CONDITION *
* INCLUSIVE OF DELIVERY & INSTALLATION *
* PLEASE DROP BY OUR WAREHOUSE TO VIEW THE ACTUAL SET *
* DISCOUNTED ITEMS ARE NON-REFUNDABLE AND NON-EXCHANGEABLE *
Designed to bridge the gap between gym and home training, the Reebok SL8.0 creates more advanced and dynamic cardio workouts. At the heart of the SL8.0 is a powerful 4 HP AC motor, delivering stronger and more reliable performance when compared to traditional DC treadmills, giving you the ability to increase both your training intensity and duration. Hitting a top speed of 20 kph across all 18 levels of power incline, the SL8.0 delivers seven customizable training programs for you to push your stamina. Including pace, road, mountain, body sculpt, fat burn and target functions; the SL8.0's advanced control system also offers RealView Sport - delivering three scenic routes for you to run virtually to freshen-up your home cardio.

Engineered to incorporate SubLite Cushioning Technology and a unique orthopedic running belt, the treadmill absorbs the impact you experience with every stride. The built-in mechanisms help reduce the toll taken on your knees and ankles by producing a smoother running experience.

The internet-enabled console features a 10.1" touchscreen display plus powerful 5W speakers, with entertainment apps such as Netflix, YouTube, Prime Video, Spotify, Facebook and Chrome to get you through your workout. Delivering all the performance feedback you need, the SL8.0 is fitted with built-in hand pulse sensors for real-time heart rate monitoring to ensure effective workouts. Complete with an adjustable smartphone/tablet holder atop the console, the SubLite Treadmill provides the optimum platform for more focused and engaging runs.

Compatible with Kinomap, the SL8.0 Treadmill helps to push your home workouts even further. With a whole host of challenges and scenic motion videos at your disposal, the Kinomap app helps you tailor and track your workouts from your phone, or even compete with your friends in multiplayer mode. The SL8.0 also features an adjustable fan to keep you cool whilst the integrated media hub houses auxiliary and headphone ports plus a USB charging station to keep your workouts powered.

Designed for total quality and heavy-duty performance, the SL8.0 backs this up with a strong max. user weight of 330 lbs - combining a fixed running deck with a spacious running area to create the optimal home running machine. Simple to set up with easy instructions and all tools included, the SL8.0 also features substantial transport wheels for swift movement around the house.

Finished with rubberized side rail grips and rubber-lined storage areas, the SL8.0's attention to detail matches its performance.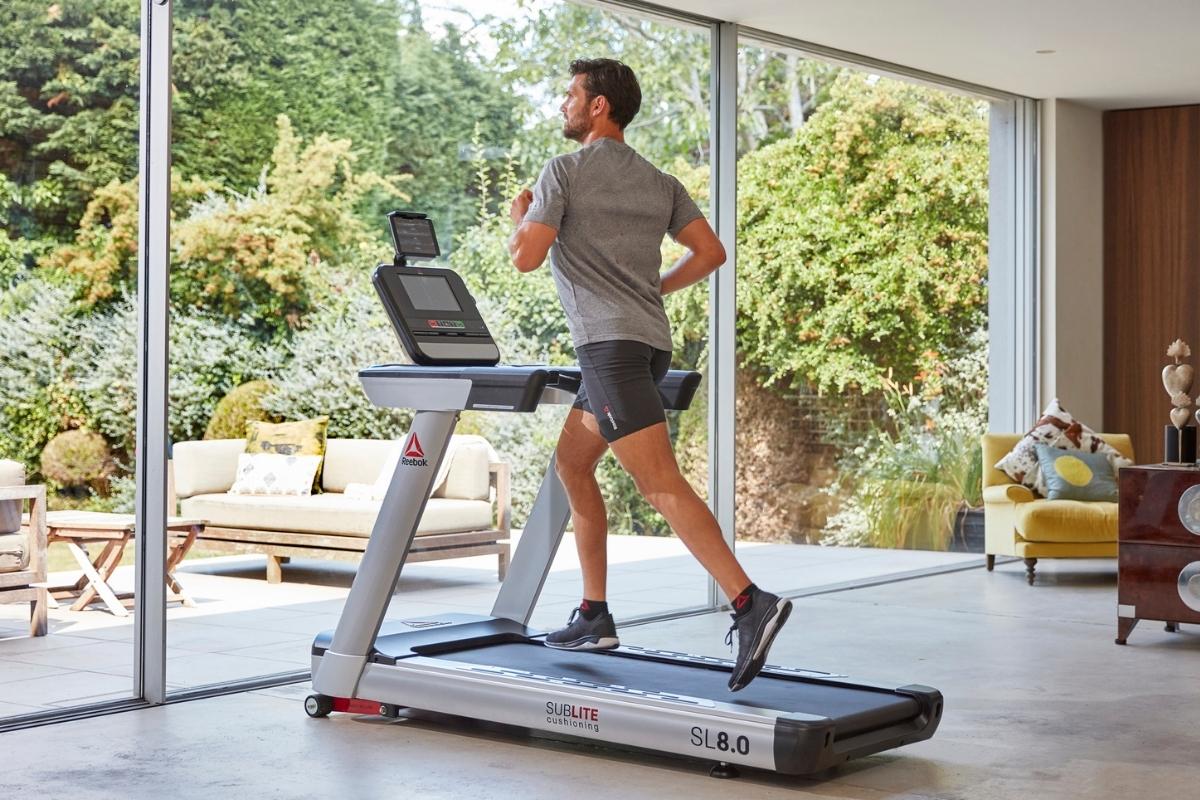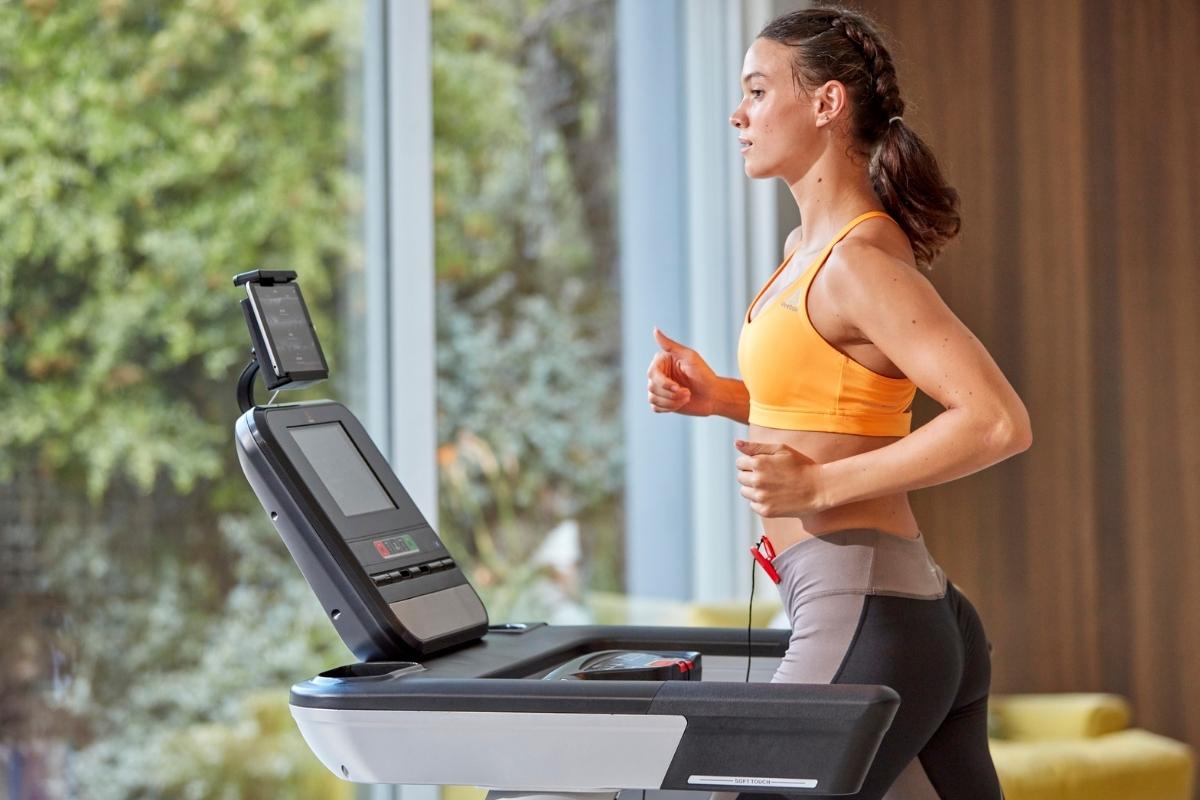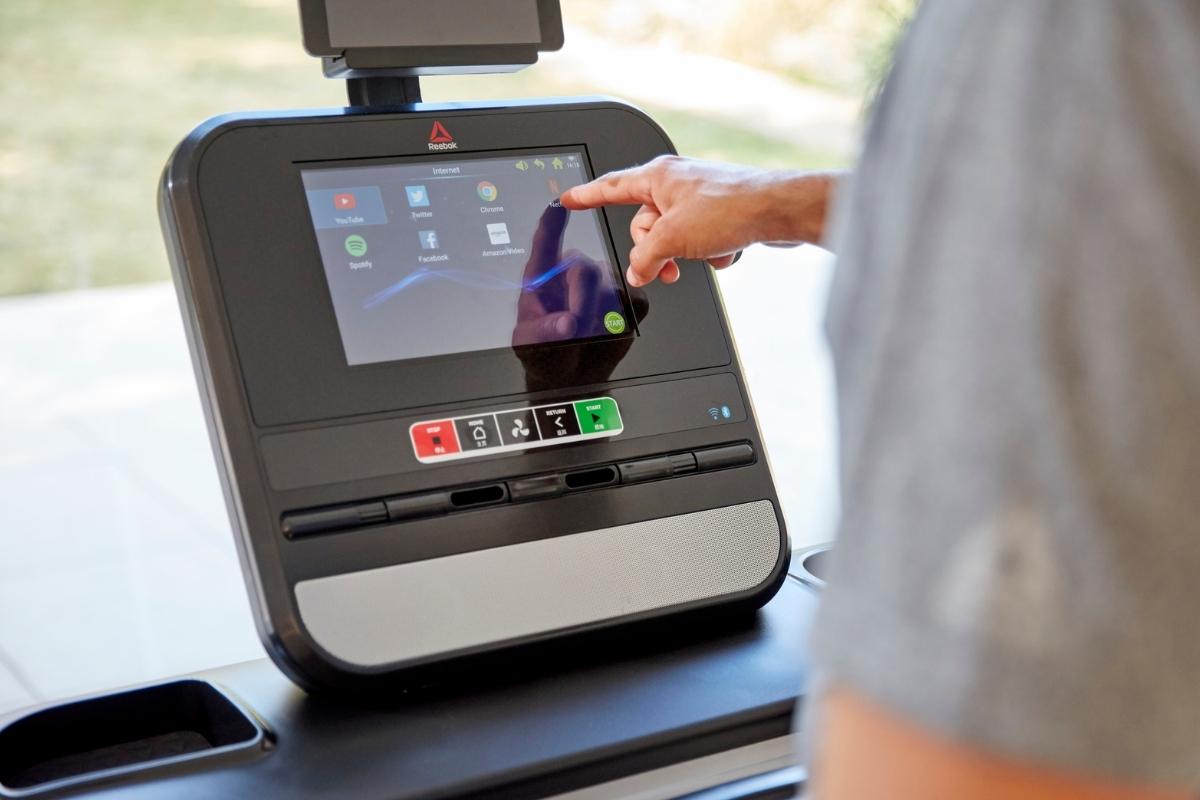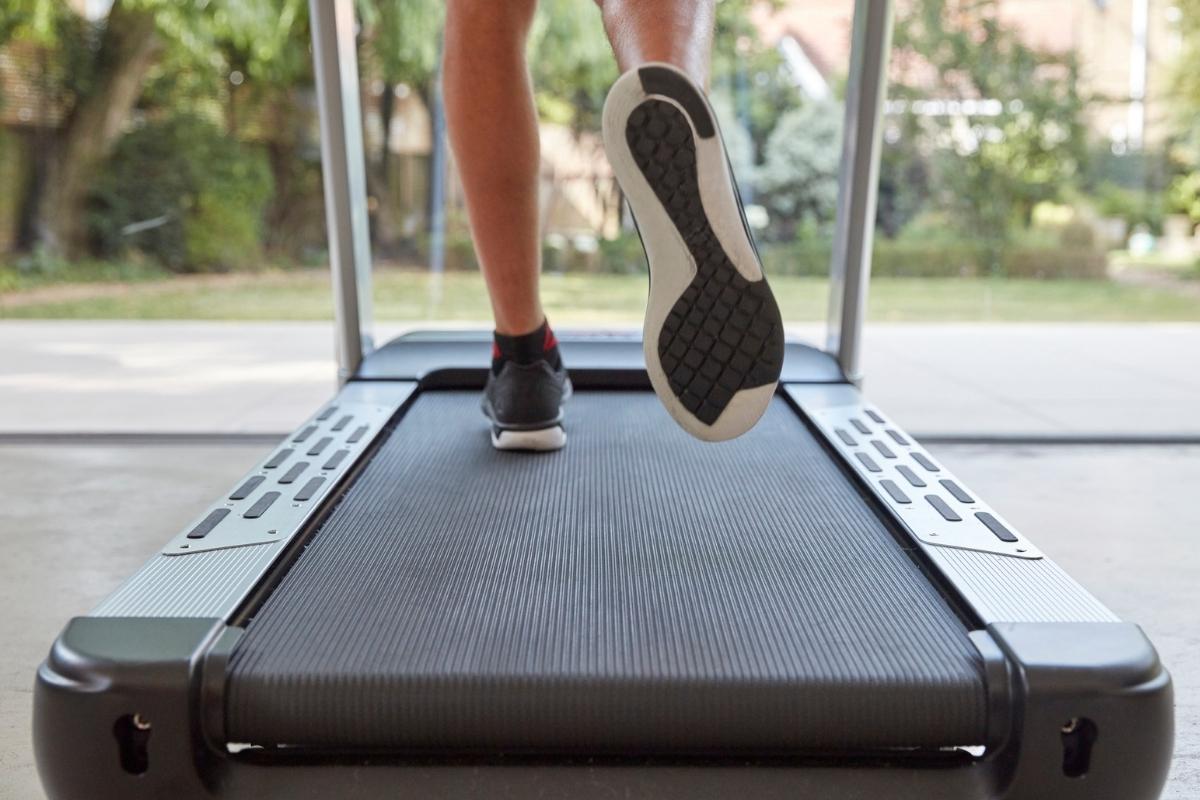 The Reebok SL8.0 bridges the gap between gym and home exercise
Compared to traditional DC treadmills the SL8.0's 4HP AC motor is more powerful and reliable; allowing you to increase the intensity and duration of your training.
Reebok Fitness App
Track, plan and analyse your training.
Mid Handles With Speed & Incline Adjustment
For easy to reach convenience.
Powerful 4 HP AC Motor
Reaching a max speed of 20km/h.
18 Levels of Power Incline
Increasing resistance and endurance training.
10.1" Touchscreen Display
Wi-Fi accessible to Netflix, Youtube, etc
Integrated Pulse Sensor
For live heart rate monitoring.
Built-in Transport Wheels
Making it easy to store after use.
SubLite Cushioning
Minimises wear on your joints.
Train with Reebok Fintess App and Kinomap
Compatible with the Reebok Fitness App, you're able to tailor and track your workouts whilst virtually running real-life routes.

Kinomap compatible equipment allows you to train all over the world with thousands of real routes, whilst connecting with other users. Kinomap pairs to your equipment and responds to the inclines and resistance seen in the video on your screen.
Fully Integrated Media Hub

Featuring a 10.1" touchscreen display, the InterAct Console provides in-depth feedback and programmes for total performance. The internet enabled system also features apps such as Netflix, Facebook and YouTube; with 5W speakers to play your music and videos aloud.
Bluetooth Integrated
This fitness machine has Bluetooth integrated, which means that it is compatible with any device where can be downloaded the Reebok Fitness Equipment App, the connection will be via Bluetooth.
SubLite Technology
With built-in SubLite technology, the deck reduces strain on the joints by cushioning the impact of each stride. The unique orthopaedic running belt is made from dense, grippy material; combing to offer total comfort and stability for an optimal running platform.