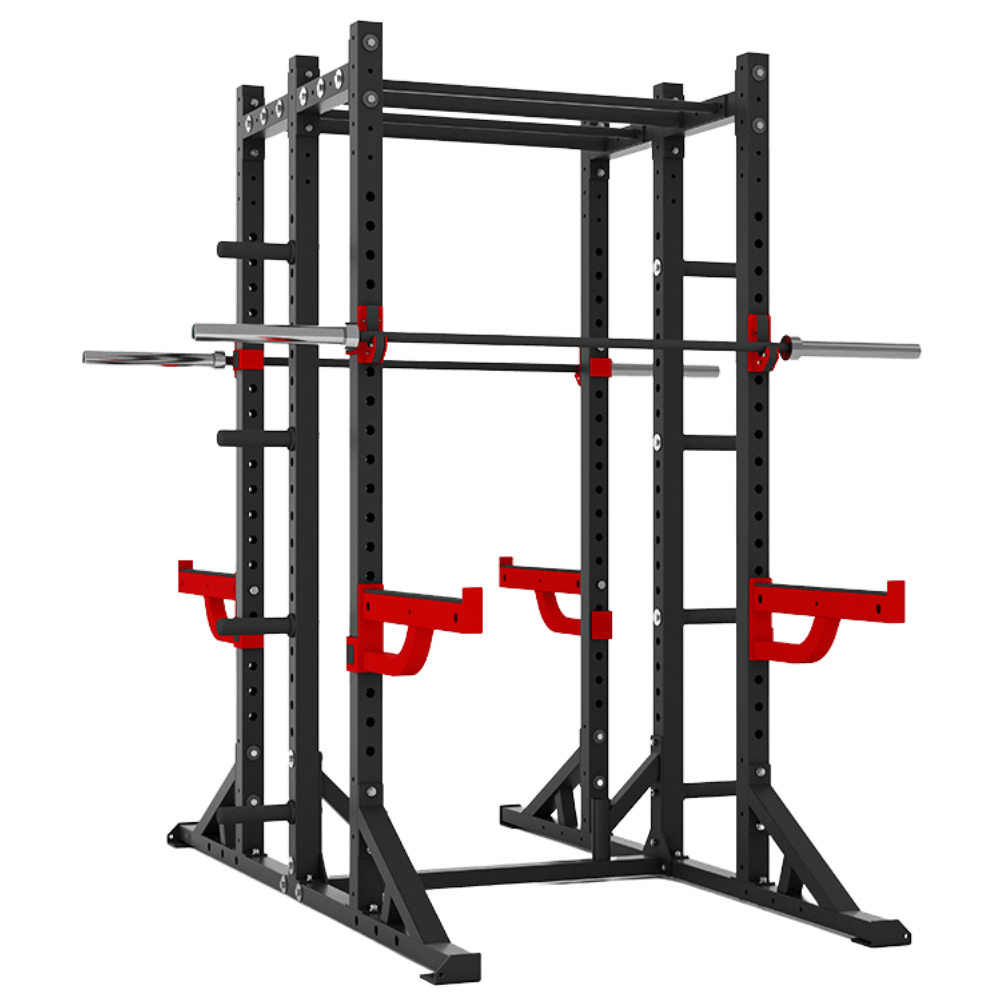 Sleeve Diameter

50mm / 2in

Dimensions

251 (L) x 165 (W) x 238 (H) cm

Product Weight

227kg

Max Load

454kg

Warranty for Home

Strength premium: Lifetime on structural frame (excludes coating & rust), 2 years on moving frames & components (bearings, lock pins, pulleys, cables, glide rods etc), 1 year on labour. Wear & tear exclusion.
IMPORTANT NOTE
- Dimensions of the upright frame: 7 x 7 cm
- Thickness of the upright frame: 3mm

The whopping 227 kg Pivot Fitness Commercial XAR6620 Athletic Combo Rack offers the possibility to have two users train simultaneously on one rack. The big advantage is that the rack is a lot more compact compared to the purchase of two separate half racks and therefore makes this rack the best choice for gyms, personal training studios and in physical practices.
Adjust the J-hooks and spotters so that they hang at the right height on both sides of the rack for during the workout. This saves you time and you can also practice super sets.
Most important features:
- Suitable for commercial use under the toughest training conditions.
- Magnetic j-hooks and spotters
- 3mm steel thickness (7cm x 7cm)
- Supplied with chin bar, adjustable magnetic J-hooks and spotters, Olympic plate holders and 2 bar holders
- 8 possibilities to store your weight plates (50mm)
- Double vertical and horizontal fixing
- Maximum load up to 453kg
Suitable for commercial use
The Pivot Athletic Power Rack is also suitable for commercial use due to the maximum load of 453kg. Good quality and stability are very desirable, the XAR6630 meets all requirements. The extremely stable and strong heavy duty steel frame ensures that the rack is maximum loadable to a whopping 453kg and does not succumb even under the heaviest load.
Maximum load + Heavy Duty
If you are going to do strength training, you obviously want this to happen in a safe way. A solid quality and stability are very desirable, the Pivot Fitness XAR6630 Athletic Power Rack meets both requirements. The extremely stable and strong heavy duty steel frame of no less than 227 kg ensures that the power rack will not butch even under heavy loads.
Pivot Fitness Evolution Line
The Pivot Fitness Evolution Line has been specially designed to meet the demand for quality fitness equipment. The durable constructions, ingenious developments and the variety of options and possibilities offer optimal training comfort, safety and also the quality you deserve. Pivot offers the Evolution Line for home use and commercial use.
The range is solution oriented on the development of combinations of products, with the heavy duty construction as the central focus. With the Evolution Line we guarantee the best price quality ratio of the entire fitness market.