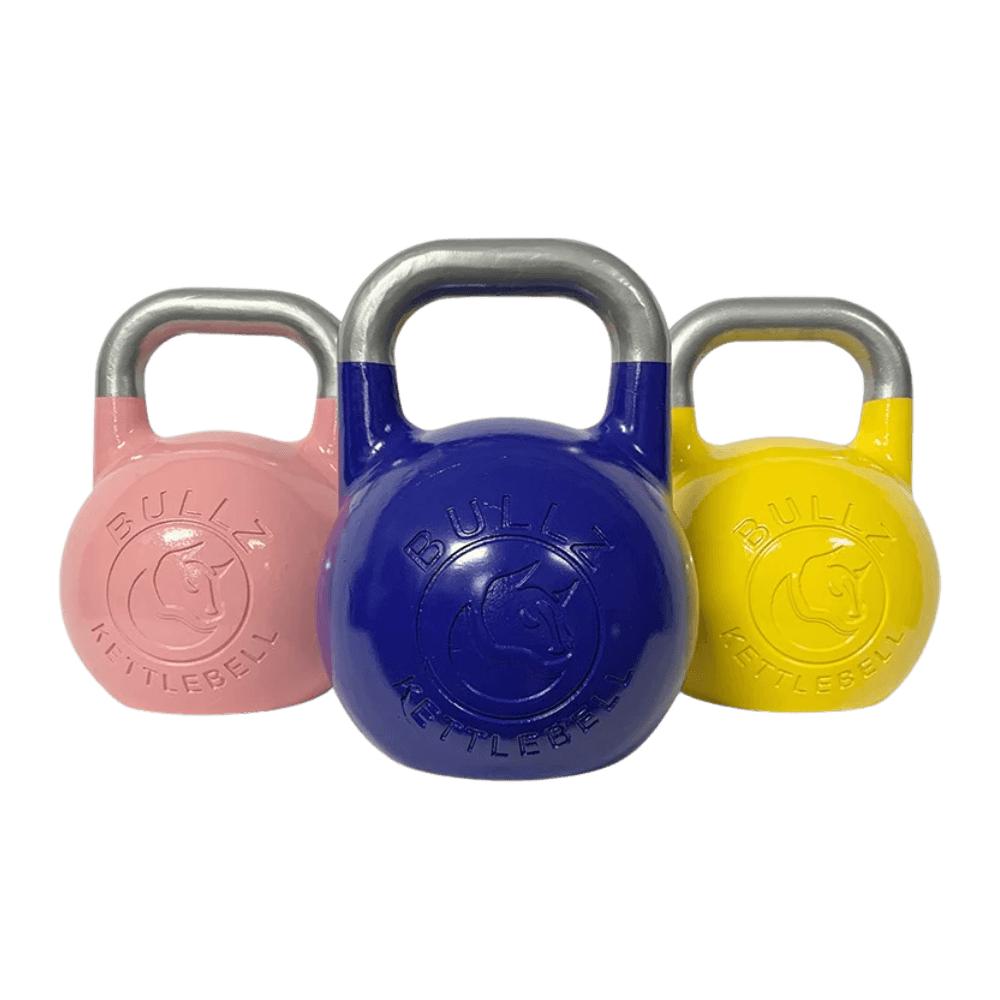 Warranty for Home

Lifetime against structural breakage (excludes coating & rust). Wear & tear exclusion.
5 reasons why you should get our Bullz kettlebell!
1. WINDOW, THE BIGGEST DIFFERENCE
The window is smaller in size and curvature as compared to other models which make it easier to handle in the overhead and rack positions. The window is 13 (W) x 6 (H) cm. The grip diameter is 35mm.
2. NO WELDING
All Bullz kettlebells are made by precision single casting technology. This means that the kettlebell is a solid single cast, with no welding joints. This is particularly important as it strengthens structural integrity tremendously. Traditional kettlebells are made by welding the handle onto the body, which makes them weak and breakable when handled poorly.
3. EVEN WEIGHT DISTRIBUTION
Using an advanced casting technology, the weight of our Bullz kettlebell is well distributed throughout the entire cast. On top of that, you can expect a very strong and rigid packing even after many years of usage (i.e. no shifting of loose fillers). This helps in keeping your kettlebell well-balanced during repetitions.
4. GRAVITY CAST
The gravity cast creates a better surface finish and dimensional accuracy as compared to traditional molds.
5. ACCURACY
Weight tolerance of +/-4%
What is the difference between our Competition and Sports Series kettlebell?
1. FILLERS
Our Competition kettlebell is packed with fillers, which make up the core weight of the kettlebell. Although rare, having fillers mean that there is a possibility of the occurrence of loose packing, especially when the kettlebell is being dropped/knocked repetitively. A loose packing may also result in unwanted rattling sound during kettlebell workouts.
2. WEIGHT DISTRIBUTION
As the core weight of the kettlebell is made up by the fillers, the weight distribution is highly dependent on the packing of the fillers. This mean that any loose packing may affect the homogeneity of the kettlebell's weight.
So, which kettlebell is suitable for you?
First and foremost, both the Competition and Sports Series kettlebells are constructed to the highest quality, and meant to last. Both have been widely used for home trainings, and also in commercial gyms.
1. TRAINING STYLE
If you are are conscientious user who is careful during trainings, who does not abuse your equipment, and takes time to care for your equipment, then the Competition kettlebell would serve you well in the long run.
2. BUDGET
The Competition kettlebell is definitely friendlier on the wallet, and may be suitable for users who have a budget to work with.