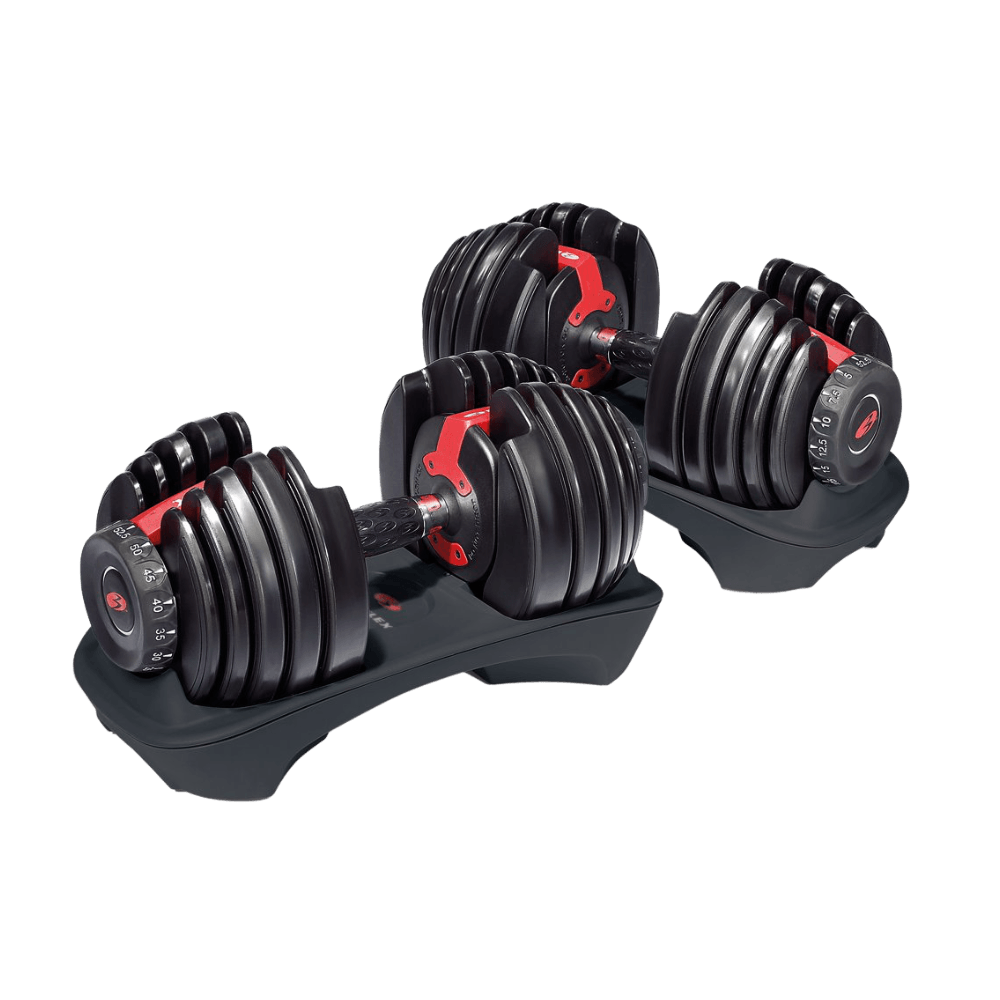 Grip Diameter

36mm

Dimensions

42.9 (L) x 20.3 (W) x 22.9 (H) cm (each side)

Product Weight

25.2kg (each side)

Warranty for Home

1 year against structural breakage (excludes coating & rust). Wear & tear exclusion.
CAUTION!

Counterfeit versions of the popular Bowflex adjustable dumbbells are appearing in Singapore market. You should be aware that counterfeiters are very good at creating visually deceptive counterfeit products and packaging to fool unsuspecting buyers. They often use the original manufacturer photos in their online listings as well. These counterfeit products will not be covered under our local warranty.
The Bowflex Selecttech dumbbells are carried exclusively by us, the authorized distributor in Singapore. Please click here for more information.
The Bowflex SelectTech is an old school strength equipment with cutting edge technology which provides dramatic results
Powerful results with the turn of a dial. Clear your workspace by replacing 15 sets of dumbbells with just one pair! Simply turn the dial to adjust your weights between 2-24kg.
App Connectivity
Free SelectTech™ app.
Wider Weight Range
With weight that adjust from 2 to 24kg per dumbbell.
Space Efficient
Say goodbye to 30 sets of dumbbells cluttering your workout space.
Storage Trays Included
Stay organized.
Easy-to-Use Selection Dials
Select the weight you want with the turn of the dial.
Premium Grips
Has a soft rubber coating.
Durable Molding
Provides for a smooth lift-off and quieter workouts.
Material
Steel, nylon, ABS, thermoplastic rubber.
NEW!

JRNY™ With Motion Tracking
We took one of the most popular home fitness products – SelectTech Dumbbells – and made the experience even better. The JRNY™ app with Motion Tracking uses your phone's or tablet's camera to:
Form Guidance: JRNY™ provides real-time feedback to assist you with your form.
Rep Tracking: JRNY™ will count how many reps you complete for each exercise.
Adaptive Weight Targets: JRNY™ learns as you progress, recommending when to increase or decrease your weight.
Learn more: https://youtu.be/ZP3YhqaP90U
On-Demand Trainer-Led Workouts
JRNY™ has an ever-growing library of whole-body workout content, including strength, Pilates, yoga, and more.

Comes with curated music stations, you can layer your favorite music genre on top of any on-demand class for endless variety and customization.

15 weights in 1 compact design

Select the weight you want with the turn of the dial – no more picking up 30 different dumbbells to give you the results you want. Easily adjust from one exercise to the next. 2, 3, 4, 5, 7, 8, 9, 10, 12, 14, 16, 18, 20, 23 and 24 kg.
Wider Weight Range
Contained within each unit is essentially 15 sets of weights, from from 2 to 24kg. They're adjustable and provides a micro-range with lower-weight exercises, and use an intuitive dial system for weight selection.
Premium Grips
Secure, comfortable grip with wet or dry hands.